MV-22B almost lost at sea due to wrong setting,
On Oct. 1 last year, the crew on board a MV-22B attempted to take off from USS Makin Island for a mission to reinforce the U.S. Embassy in Iraq. Unfortunately, the flight never made it to Iraq and the aircraft was nearly lost.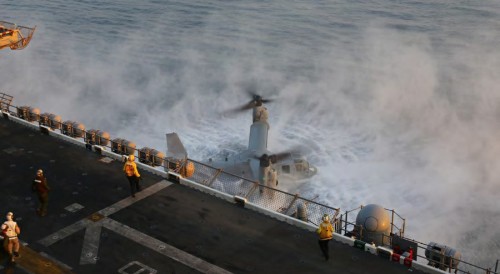 Photo: U.S. Marine Corps

Investigators found that the tilt-rotor was started up in maintenance mode, a setting that reduced the available engine power by 20 percent. A design flaw failed to warn the crew they were about to fly without enough power.
As the co-pilot lifted the Osprey from VMM-163 off the flight deck, the aircraft started plunging toward the sea. Both crew chiefs were ordered to abandon the aircraft and they exited from the back ramp. In the cockpit, both pilots struggled to keep the Osprey out of the water. After lightening the aircraft by dumping fuel, they were able to lift off and land back on board the LHD.
However, it was a different story for the two crew chiefs that bailed out. Both of them were struggling to stay afloat due to the body armor they were wearing. Cpl. Jordan Spears eventually drown as his life vest failed to inflate.
[thumb]http://www.sandiegouniontribune.com/news/2015/jun/30/osprey-crash-at-sea-command-investigation/[/thumb]