A secret road runway in Singapore disappears
A 7.5km long mass rapid transit line goes into operational today in Singapore. The Tuas West Extension consists of four new stations in the western part of the island and two of these above-ground stations were built along Pioneer road. Before its transformation, this road was designed as a road runway similar to the publicly-acknowledge alternate runway along Lim Chu Kang road.
Digging up old satellite photos from Google Earth. One can see that the original road was approximately 26.5 meters wide and 2.5 km long. The same dimensions as Lim Chu Kang road. The three-land dual carriageway was divided in the middle by white makers. Planning for this road probably went in tandem with Lim Chu Kang road. Ideally, this road would allow Republic of Singapore Air Force fighter aircraft to take-off and land far away from their bases.
Today, very few traces are left of the original road. Sideways have been constructed on both sides of the road. The start of the new line was delayed by six months and an open house was held on Jun. 16 to give the public their first glimpse of the line.
It was announced back in Jan. 11, 2011 that the government will extend the East-West Line to Tuas. The extension will benefit 100,000 commuters working in the Jurong and Tuas industrial estates.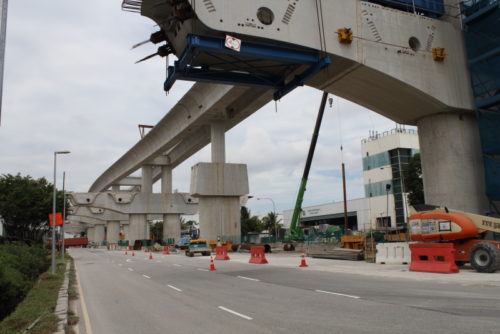 We were lucky to have made a visit to the area back in 2015 during the construction of the line and the unique features required for an operational road runway was still visible.
There was an absence of sidewalks along the entire stretch of Pioneer road. Deep canals were dug on both sides of the road to rapidly draw rainwater away from it's surface. Situated in the equator, Singapore experience an abundant amount of rainfall each year.
The lamp posts were bolted into place to facilitate their quick removal during war time. The following photo shows how a lamp post is removed during Exercise Torrent 2016 at Lim Chu Kang road.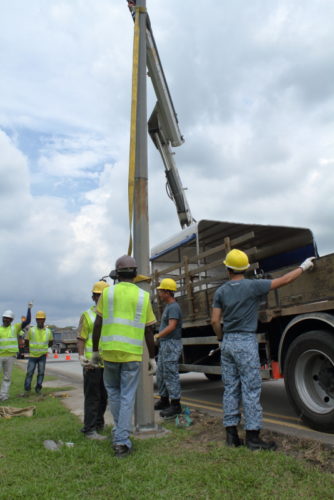 Only the canals are left untouched after the construction. The authorities have also raised the height of the road. Some lamp posts are still bolted into place but most were dug into the ground. While commuters celebrate the arrival of the new train line, a part of Singapore's aviation history fades away.