Robots might one day refuel U.S. Army helicopters at forward area
Soldiers manning the fuel pumps at forward refueling points are at risk from enemy targeting and the U.S. Army is testing out a new technology so that it can remove them from harm's way.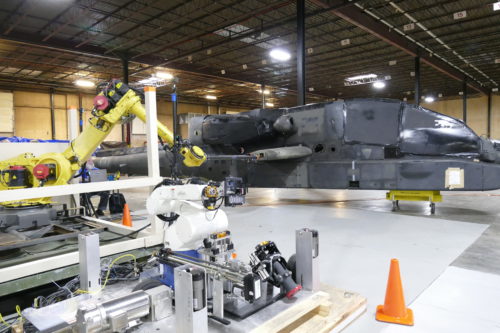 Photo: U.S. Army photo by Mrs. Kathleen Edwards (AMRDEC)

The U.S. Army Aviation and Missile Research, Development and Engineering Center is testing out a Limited Initial Capabilities Demonstration of the Autonomous & Robotic Remote Refueling Point (AR3P) that uses a robot to refuel a helicopter in the front line.
Equipped with articulated arms and sensors, the robotic arm can top up fuel without any human input.
The system was developed by the Center's Aviation Development Directorate and Operational Energy Lab using commercial off-the-shelf materials for the majority of the package.
Engineers hope to eventually refuel a AH-64 at Fort Eustis, Virginia during Phase 4.