Poll: Should an unmanned S-3 compete for the MQ-25A program?
The latest draft request for proposals for the MQ-25A competition suggests the U.S. Navy is only keen on having the aircraft acting as a mission tanker and less emphasis is given on its intelligence, surveillance, and reconnaissance capabilities. An artist concept from Lockheed Martin showed a Navy buddy tanking pod hanging on a pylon. Do you think the company might just refurbish the S-3s under storage and offer them as unmanned tankers?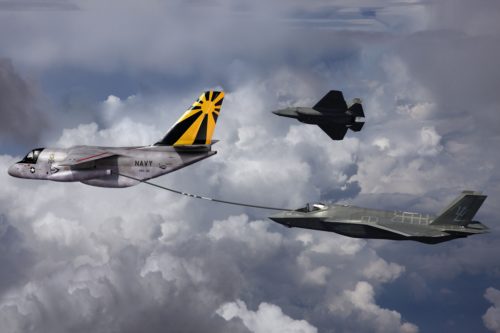 Graphic: Lockheed Martin
Should an unmanned S-3 compete for the MQ-25A competition?
Yes (74%, 210 Votes)
No (26%, 72 Votes)
Total Voters: 282
Loading ...
Back in 2014, the aerospace giant had wanted to bring back its S-3 by modifying those in storage to compete for the C-2 carrier onboard delivery (COD) replacement program. The Navy ultimately selected the CMV-22B.
The idea of taking a manned aircraft and turn it into an unmanned platform is not new to Lockheed Martin, the company had proposed to do it on the U-2 spy plane. It also team up with Kaman to offer the unmanned K-MAX for cargo delivery missions in Afghanistan.
The four-seat, twin-engine anti-submarine aircraft had been flying off carrier decks since the 1970s. An executive from the company was quoted back in 2014 as saying that those airframes in storage have an average of 9000 flight hours remaining. The Viking was also flown as a aerial refueling tanker during its career in the Navy.
With Chief of Naval Operations Adm. John Richardson reported to be keen on having a MQ-25A catapulting off a carrier as early as 2019, an unmanned S-3 could be a viable option to meet that tight deadline.